General educational curriculum of Nepal, especially in government schools, emphasizes only on teaching facts and theories bounded in limited core subjects, required for a student to pass the national level, paper based examination. This does not ensure holistic development of the children but judge them on the basis of their memorizing and retaining capacity.
On 26th and 27th of July, NJSI hosted a training for trainers on Integrated Pedagogical Paradigm (IPP) whose objective was to train the teachers to aware their colleagues to adopt the teaching method that focuses on overall development of the students. The training was facilitated by the regional superior of Nepal Jesuit Society, Fr. Amrit Rai and attended by 15 teachers and staff from 4 schools, Navjyoti Center and NJSI office.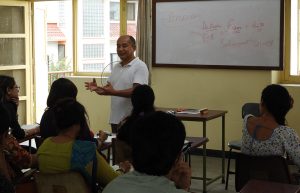 The training was concentrated around the notion that "Education is change of experience". The participants were trained to motivate the students by understanding their individual contexts and experiences, teaching them to reflect, leading their action, and evaluating the transformation. They were made aware about 8 intelligence according to Multiple Intelligence Theory of Howard  Gardner (Logical, Linguistic, Spatial, Intra-personal, Interpersonal, Kinesthetic, Rhythmic and Naturalistic). Students may be good in few and not in others. It is important for the teachers to let students grow in their intelligence.
One of the teacher, Mr. Dinesh K.C said, "I had learnt many theories to improve the learning of the students but through this training, I have received practical techniques of applying them in the classroom.  We learnt how to create such environment where students can flourish from all angles. This way we can have behavioral transformation rather than having only knowledge based transformation".