After the successful completion of the basic tailoring training last year in Jaretar Kavre, the recipients had requested NJSI for an advance one. Now, they feel proud to have completed the advance one as well.
On 15th of July, they were awarded with course completion certificate. This training focused on making clothes like gown, blouse, kurtha suruwal, topi, daura suruwal etc.
Among all the  recipients, 11 were from Danuwar community and one was from Tamang.  Most of them came from poor family background. They were happy to have skill which will eventually help enhance their economic status.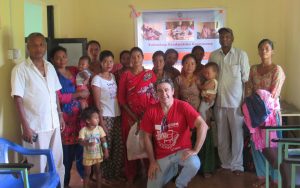 Impressed with the work of these ladies, the trainer, Babita Danuwar says that she will help them in finding job.