On 19th March 2018, NJSI handed over Shree Saatkanya Early Childhood Development (ECD) center to Saat Kanya School located at Balephi -06, Sindhupalchowk. The center was built with the sponsorship from Xavier Network. Currently, it benefits twenty six children (twelve boys and fourteen girls) under the supervision of one facilitator, Ms. Uma Paudel. The center will also be used as women activity center.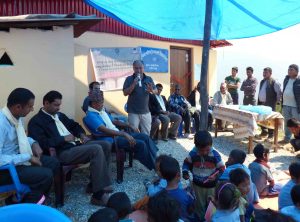 The inauguration ceremony was attended by the regional superior of Nepal Jesuit Society, Fr. Amrit Rai S.J., the director of Nepal Jesuit Social Institute, Fr. Roy Sebastian S.J., NJSI community Superior, Fr. Arulandam S.J., secretary of Jesuit in Social Action, South Asian Assistancy, Fr. Stanislaus Jebamalai S.J., chairperson of Balephi ward 6, Mr. Chitra Bahadur Tamang and 65 villagers. The local participants were appreciative towards NJSI's approach to enhance village's children's education and they anticipate further support. They also presented a letter of appreciation for NJSI's contribution.
NJSI is thankful for Mr. Yamnath Paudel for providing his hand to construct the building.