My Tryst with Tipling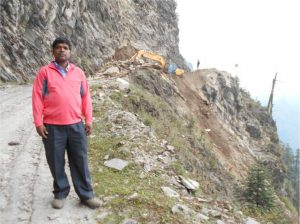 Fr. J. Suman Baxla, s.j.
God must be crazy to have created a landscape such as Tipling and so are the Nepal Jesuits, the crazy lot, choosing to be there as genuine and faithful stewards of God's vineyard. I wonder if even some of the Nepali nationals know that there is a settlement called Tipling in their country. The Jesuits have discovered it and have decided to make it their home to carry out the Mission of living out and preaching the Good News to the lovely people, the Tamangs. It takes minimum of two days of walking to reach there, climbing up and going down the hills of great Himalayan range trekking an altitude of 3000 – 4000 mts. The conditions are tough but
the Nepal Jesuits have proved to be tougher in their life and ministry at the mission station, perhaps the only one of its kind in the whole of South Asian Assistancy in recent times. When I reached the place following the footsteps of the Nepal Jesuits I was filled with awe and wonder. It was an overwhelming experience to discover the joy of living and working there amidst bare minimum facilities of housing and food. The WLL phone facility is one solace because you feel connected to the rest of the world.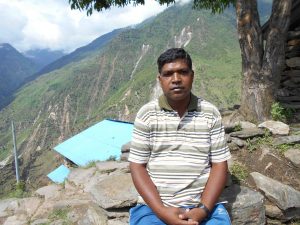 The Jesuit mission, only four years old, has worked miracles in the terrains of Tipling. Taking care of the otherwise forsaken people of the land's physical, psychological and spiritual needs by being with them in their life's journey, the Jesuits have ignited a ray of hope for better future in them. Particularly in this time of suffering and agony owing to the damage caused by the earthquake Jesuits have given a new lease of life to the people by providing them with the immediate relief. Precisely, owing to the Jesuit presence and work, despite 99 % of devastation of housings, people are not defeated. Life continues as usual for them. The trauma did not overtake them. They overrode the trauma.
During my one month stay there I discovered that Tamangs, the Hill Tribe people of Nepal, are genuinely very happy people. They are physically strong and emotionally resilient because they have to brave through the most arduous life conditions of the terrain to survive and continue living. They are very hardworking people, cheerful and generous in their dealings. They are peace loving and welcoming community. Sustaining themselves throughout the year with the agriculture and forest produce, their life is a agnificent example of subsistent economy.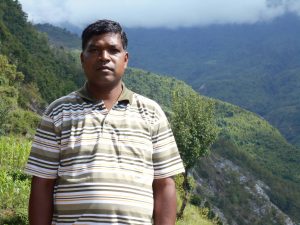 Potato, Maize, Wheat, Kodo (millet) and some Green vegetables are the only food items available for sustenance. Having rice is a delicacy which they have been relishing now for about two months because of the relief supply. Of course, they have the herds and the poultry which supply meat and milk to them occasionally. The Jesuits have proved to be true companions to them in their life's journey amidst those conditions.
The Jesuit presence is a great boon for them. They are giving the kind of leadership the people needed to look outside and forward for a life beyond the frontiers of their mini world. The people have the faith in the Jesuits that they carry the spark that will kindle the fire in their lives which will eventually illumine the nation and the world. The sincere and serious efforts of the Jesuits are already bearing fruits. The children and the parents have learnt the value of education and learning. They are serious about it. The grown up children's ability to communicate with the outsiders in broken English is the outcome of the Jesuit contribution as
the support staff in the Government Primary and High Schools. The two Tamang boys having studied in the local Government High School, joining the Jesuits as candidates this year is the fruit of Jesuit labour and is not an achievement to be undermined. I must confess, having been there for a month, Tipling Mission is God's vineyard and the Jesuits of Nepal are the right stewards.
Height months in Nepal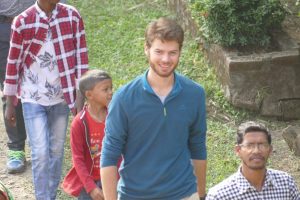 Grégoire Deyme, French volunteer.
"Lord Jesus,
Teach us to be generous ,
To serve you as you deserve,
To give without counting,
To fight without the worry of injuries,
To work without seeking rest,
To spend, without waiting for another reward, that of knowing that we are doing your holy will."
Scout prayer, St Ignatius.
I'm Gregoire, and I was 22 years old when I chose to take a year off during my mechanical engineering studies in France. Maybe this scout prayer was the trigger which pushed me to make the decision to go away from my country and to serve freely others as good as I could.
In 2017, while I was looking for an NGO to be volunteer, and I luckily found the website of Nepal Jesuit Social Institute (NJSI). I was fascinated by the projects that this NGO has in Nepal after the 2015 earthquake. I contacted the INIGO group (a French Jesuit organization for volunteering) and asked them to work with NJSI as possible. The Nepali Jesuits were very attentive to my request and understood my desire to discover Nepal, the culture, and to share my skills of engineer. They offered me the opportunity to be a math and science teacher in a Jesuit school: St Xavier School, Deonia , in Jhapa district.
It was a big challenge for me to be teacher: not only because it was my first time, but also because I had to adapt myself to Nepali culture. I had to teach in English and to understand how Nepali students learn. It does not seem difficult, but the first moments in a classroom, in front of 45 students, are the hardest.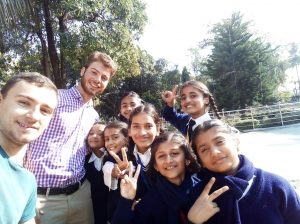 I was very well welcomed by the Jesuit community, the staff members, and the students. They have been a great support for me throughout my mission, and made me feeling at home with them.  I took this opportunity to learn about Nepali people, their customs and their lifestyle.
I discovered a new way to teach, and the joy to share my knowledge and my skills with students. I was very happy to see how Nepali students are curious and how they can be friendly with foreigners.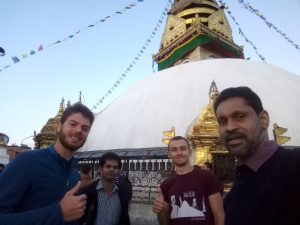 I learned a lot from this experience and these people: Here everything is different. People know the value of the life; the value of the work and they don't have the same priorities as we can have in our European countries. I'm sure I will not see life the same way after these height months!
Finally, I want to thank Father Roy Sebastian, all the NJSI team and the Nepali Jesuits for all the attentions that they gave to me. I hope to see them soon, after my studies, and help them again for the different projects in Nepal. धन्यवाद!!
NJSI: A tremendous life experience
My name is Godefroy, I'm french and I was 22 when I volunteered in Nepal. I was doing civil engineering studies in Lyon, France, when I took the opportunity to take a year off and to come in Nepal for working with NJSI. My point was to take some time away from my country in order to serve freely others at my best and to step back from my life.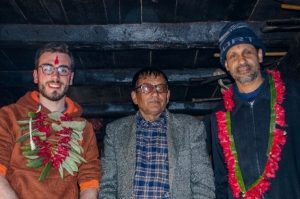 When I was seeking for NGOs to send me away, I had the chance to meet with INIGO, a French Jesuit organization, which was offering the type of volunteer experience I wanted: being sent abroad in partnership with a local Jesuit structure in which you are welcomed and integrated, all this along with a spiritual dimension. That is how I met with the Nepal Jesuit Social Institute and its director, father Roy. The aim was to come and work with NJSI from 15th February to 15th July in all their activities. It means that I was going to help them in the construction sector, in which I'm qualified, as much as the education sector, in which I'm still an apprentice. But I was really motivated to do all my best and to share my experience with the Institute.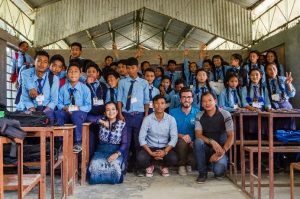 Before my coming in Nepal, I didn't know much what I will be asking to do. My mission was to adapt myself to the situation and to share my skills with the others. Then, I was a little anxious about my ability to fit within the Institute. Indeed, I was a student from a far different country who was asking to work with experienced people from the country.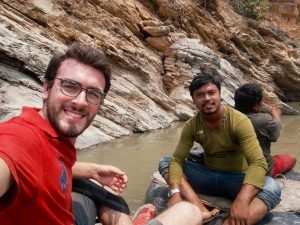 As soon as I arrived, my anxiety went away. I was kindly welcomed by the Jesuit community and the NJSI staff. I wasn't treat as a foreigner but as a member of the NJSI family. It may be normal for some people but it was as uncommon as incredible for me. I quickly integrated myself into the institute and worked with both the construction and the training team. It was a completely new environment for me with a lot of experiences.
Among the experiences I had, I spent three weeks in Chapadi (Rakathum, Ramechhap) for the construction of an irrigation system for farmers, I helped to conduct a Personal Development Camp in Baleshwori School (Lalitpur), I assisted in writing administrative documents for new project and I developed an Excel database to ease the monitoring of projects. Each experience was a challenge and an apprenticeship. Consequently, my stay in Nepal was enriching and challenging. I also learnt a lot from NJSI staff members. Their professionalism and their way of doing were a great help.
I will always remember the kindness and the excellent hospitality of Nepali people. Everywhere I went, they welcomed me very well and treat me as a honour guest. Their joyfulness and their willingness to share with you surprised me in a very nice way. Besides, the NJSI team was always supporting me in the activities, providing me an atmosphere in which I always felt in my proper place.
I'm grateful to all the people I met and with whom I could share memorable times. I especially thank the Jesuit community who welcomed me – Fr. Anil, Fr. Arul, Fr. Thomas and Fr. Roy – together with the NJSI team – Arbind, Arush, Kamal, Lawrence, Palpasa, Ram Hari, Shristi, Smriti and Tika Ram. I keep you in my heart and my prayers and I hope I will see you again during an upcoming travel.  धेरै धेरै धन्यवाद !!