Unfortunately, South Asia seems to have turned into the epicenter of the second wave of COVID-19 as most of the countries in the region, including India, Nepal, Bangladesh and Pakistan have been badly infected by the coronavirus. Instead of being controlled, the situation is getting more flared up as each day passes. The second wave of the pandemic has not only affected the Kathmandu Valley but also different cities of the country both in the hills and in the Terai. So much so that even the rural areas are also getting affected. It did not even spare the remotest of the remote areas in the far-off villages.
It was tough reaching out to these people due to strict lockdown rules. NJSI began to work with local Jesuit Communities in Jhapa districts and local organizations like Maiti Nepal, Nepal Nazareth Society, and Congregation of Jesus to collect need assessment data and based on the requests came from the local government began the relief work. Initially NJSI collaborated with St. Xavier's College, Kathmandu participating in the "We Feed Program" supplying cooked food to Covid Patients' care takers in the Covid care hospitals in Kathmandu which did feed about 3000 hungry stomachs.
With the aim of providing basic food materials for covid victims, daily labour, and tea garden workers,  NJSI targeted to distribute the relief for 200 families in Maheshpur, 220 families in Deonia and 280 families in Sadakbari in Jhapa district
In Kavre district, NJSI distributed package of relief consisting food materials to 300 families in Panauti, 150 families in Tinpiple and 110 families in Hokse who were all Covid victims.
Looking towards the problems that made people's life hard due to COVID-19, NJSI distributed relief package to over 200 families in Pokhara, 300 families in Dhading district and 300 families in Kathmandu valley.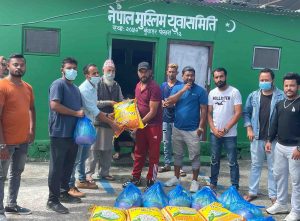 Melamchi have been facing a big disaster due to heavy rainfall and flood along with the second wave of Covid, looking toward the problem of the people of melamchi NJSI prepared a relief package and distributed to about 70families living in Melamchi.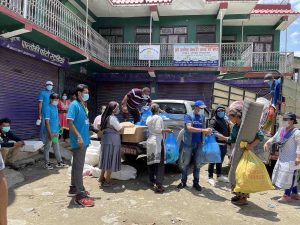 The relief package distributed had made the life of people living in different areas a little sustainable and easier for some period of time.