"I have been teaching for past 20 years and have participated in many teaching aid workshops and trainings conducted by various entities providing educational support. However, I found the Integrated Pedagogical Paradigm (IPP) training provided by NJSI to be different from the rest. It encouraged us to develop value of subject matter while transferring knowledge to our students", said Mr. Rajendra Prasad Pangeni from Maha Laxmi Secondary School, Lalitpur after two days of IPP training conducted on 25 to 26 August 2018 at NJSI office, Bakhundole, Lalitpur.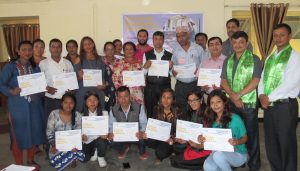 18 teachers from 7 schools of Kathmandu and Lalitpur districts participated in the training program. 3 teachers from St. Xavier's School, Jawalakhel who have been trained and highly experienced  on IPP led and facilitated the program. Mrs. Mamta Maharjan, a teacher from Bhanudaya Basic School, Lalitpur said, "It was a great platform for me to learn new things about lesson planning and counselling. I liked the way we were asked to do counselling different from the traditional way we have been following. Overall, I found this training very effective".
Mr. Pangeni complemented, "I find this training and the works of NJSI in the education sector fruitful and praise worthy".