Monsoon is the time for cultivating millet, clear off weeds and harvest potatoes in Tipling, the remotest village of Dhading.  At this time of the year, schools have monsoon holidays when some of the students help out their parents in farming activities, take care of cattle and some of them go down to the near by cities to get additional tuition for Secondary Education Examination preparation as well.  This monsoon holidays between 8th to 10th of July, NJSI conducted "Personal Development Camp" in Tipling helping them to experience a different kind of monsoon holidays.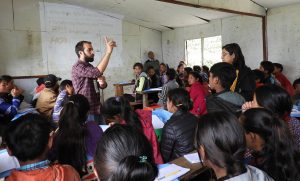 The camp focused on motivating the students to be mindful of self, community and environment through exposure to higher education, scholarship prospects, entrepreneurship, career options, Eco club and critical thinking.
The total number of 68 students of Dongden Devi Secondary School from grades 6 to 10 participated enthusiastically in the camp. The NJSI team was impressed with the willingness of the students to learn, and participate in meaningful purpose. Angela Maya Tamang of grade 9 writes in her post evaluation, "I learnt that we should think critically whether the given information is right or wrong before believing in them".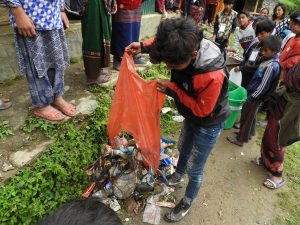 An Eco club was established with a promise to protect the environment and work for healthy community.  A cleaning campaign was conducted as the first project of the club. Later, most of the students responded that they will not throw plastics waste haphazardly anymore; instead they will pick them up if seen around.
Fr. Tek Raj Paudel SJ, who has been teaching at Dongden Devi School for 3 years, acknowledges that it was the first time students participated in such events. He felt proud to see his students accepting participation identity cards and certificates with dignity.
NJSI is thankful to Xavier Network for their support in this meaningful project.