Personal Development Camp is a program designed to help the students identify their potential and encourage them to be mindful of self, community and environment through promotion of critical thinking by conducting interactive sessions and at the same time to make them aware of the environment issues by establishing Eco-club with the student representatives of the school. This time the camp was held for the students of grade 8 and 9 of Shree Path Pradashak Secondary School, Badikhel, Godawari for 2 days. There were altogether 72 participants and a teacher who continuously helped in conducting the program.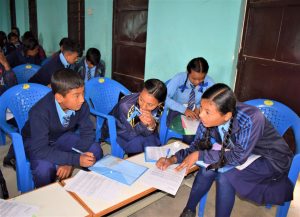 On 12th November (first day) the students from class 10 were invited to participate in the first session of the camp "Higher Education and Dreams" to make the students know about themselves, their strength and aim and to inform about education systems and scholarship available for education. After the break, class 10 students left and the program was followed with critical thinking session. On day 2, program went well with session on "Eco Club's Importance and Formation" and "Child Rights". The executive members of Eco club was formed with President, Vice President, Secretary, Treasurer and Logistics In-charge. The club formation was followed with School Cleaning Competition where 6 groups were asked to collect maximum amount of waste inside the school compound. The program ended with certificate, gifts and prize distribution.
The students seem interested in every activities and had a frequent interactive session. The students reflected very well about what they learnt during the session. Most of them responded that they are clear now about their aspirations in life and have got better knowledge about the scholarships available. They also made inferences about the content they learnt during the session making connection with their personal life.