There is no other wisest investment in health. Realizing the need of a medical camp to address health issues of people of Rorang-09,  NJSI in collaboration with SCN sisters conducted  medical camp for chepang community living in Rorang Rural Municipality.  Chepang community are one of the most marginalized ethnic group in Nepal. They are very less educated and mostly depend on agriculture for survival.
On 22nd March 2021, medical camp was conducted at rorang municipality for general checkup and distribution of medicines. There were altogether 292 beneficiaries including the students studying in robang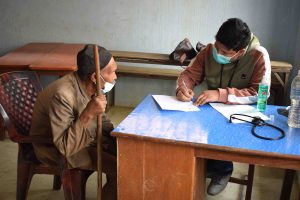 school.
These medical camp was prepared for individuals suffering from general health problems like joint pain, common cold etc. Various health related awareness videos especially COVID-19 protocol videos and news were prepared and played in TV for the people to watch while they were standing on the que to meet the doctor. COVID-19 protocol such as sanitizing hands, wearing mask were followed during the camp. Good hospitals and medicals are far from the village and treatment also cost more than the people could offer. The beneficiaries were extremely happy to receive medical support and checkup.