Since 2015 earthquake, NJSI has been addressing the unheard voices of people from earthquake affected regions of the country. The working sectors includes livelihood projects which help women enhance their quality of life, skills and knowledge by providing vocational trainings like soap making and tailoring.
On September 4, 2019 NJSI team went for soap making training at Majuwa Swabalamban Women's Group, Haibung Sindhupalchowk. There were altogether 26 participants. They showed their keen interests in learning the each steps through their active participation. The next day on September 5,  tailoring course started at the same place for the same beneficiaries in which a total of 15 women are continuously learning to stich garments.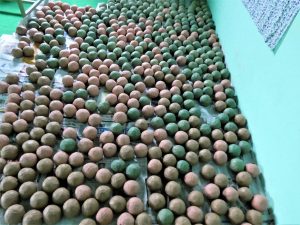 On 17 October, the team conducted soap making training at Kalidevi Krishi Sanstha Samuha, Suri Dolakha. The training was provided to 18 direct beneficiaries. The day after, on 18 September advance tailoring course started for those 14 women who already got basic tailoring training. This is a three month course in which women acquire knowledge of stitching garments like gown, daura suruwal etc.
The activities like this will help them to identify their skills, strengths and knowledge that already exist and seek to build. The beneficiaries were thankful to Nepal Jesuit Social Institute for the continuous support and wishes for more in near future.