With the history of more than 10 years, Azad Secondary School is counted as one of the renowned schools of Banepa. In the recent years, Nepal Jesuit Social Institute has developed a special bond with the school. From educational intervention like Personal Development Camp and formation of Eco-club to building hostel for children with special needs, continuous support is being provided to the school. The school was recently provided with 100 sets of desk and benches.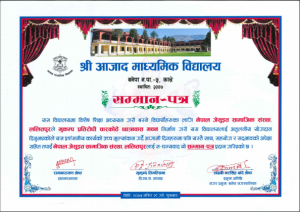 On 9th of March, the school management committee invited NJSI as a special guest for their annual day program. In the event all students and teachers of school, as well as special children from the hostel, members from school management committee and Laxmi Narsinga Bade Shrestha, Mayor of Banepa showed their presence. The program started at 12 in the afternoon. Student performed dances which was later followed by speech from honored guests. The Mayor and the school provided NJSI with appreciation certificate for continuously supporting school development in every way possible.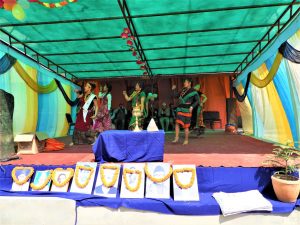 On this special occasion, the school management committee expressed their heartfelt gratitude toward NJSI and wished for stronger relationship in the years to come. NJSI has been providing guidance and platform to convert their potential to meaningful impact and also wishes for better future.