To inaugurate and handover the newly built women center NJSI team went to Haibung-3, Sindhupalchowk on 22nd of November, 2018. The agenda behind building women center is to provide women with a safe shelter where they can come together to hold meetings and organize programs for themselves as well as center can be used for upliftment of the entire community. In presence of 36 local participants, the key was handed over to the chairperson of Majuwa Swabalamban women group.
The program started with the national anthem and lighting of the lamp. Then it was followed by speeches from appointed chairperson of women center, chairman of the village and NJSI guest Lucia. The women group also performed dance. To end the program, mats were distributed and finally handing over of the center was performed. The program was well organized and was not much time consuming. Every one participated and helped each other.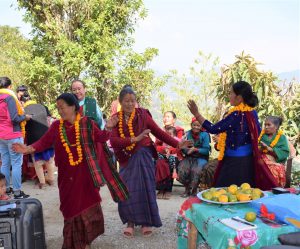 The gratitude of the beneficiary women were exhibited in the warm welcome they provided to the team. Mr. Ram Kumar Gurung, was strength of the village because of his continuous support whether it be in terms of providing the land or supervising the construction with deepest wishes for the development of his village. Chairman of the village, Mr. Basanta Gurung also took the opportunity to express his thankfulness towards NJSI and assured to help the women in empowering them and to make good use of the center.