Learning is the process of acquiring knowledge which starts right from birth. Children from very early stage starts to imitate to closed ones and develop cognitive behavior. Teachers plays vital role in grooming children emotional, physical and mental health. That is why understanding the need to invest in very young children is so important, so as to maximize their future well-being.
To provide essential guidance and to empower and upscale the teaching skills of ECD facilitators of Kavre district, Nepal Jesuit Social Institute organized two days ECD teachers training at Shree Bhagwati Secondary School. There were altogether 9 participants and 2 facilitators. Sessions was steered with learning new songs and ways to teach the children with the help of the resources accessible in the environment. Education materials like calendar chart, birthday chart, number chart, weather chart and many more were made with the available natural resources.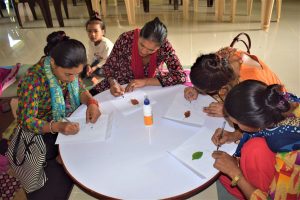 The teachers actively learnt and enthusiastically fulfilled their responsibility throughout the sessions. They were very glad knowing that they can use elements presented in their surroundings. The teachers were very content and thankful for the training as they learnt so many things in limited time. They were pleased with learning innovative ways of teaching methods and tools.