With the aim of enhancing the skills of young and competitive people in the field of computer and technology, NJSI had its 2nd batch of computer training completed on 4th September, 2019. On 4th August, altogether 16 girls started their journey at Kamal Niwas (NJSI office) to complete the course in 1 month. It was a 300 hours of intensive training on Basic Computer skills (Typing, Microsoft office package, Internet and email), Basic English and Office Management.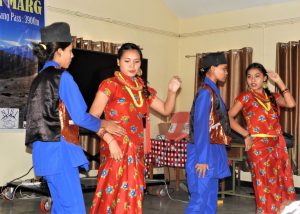 After such intensive course completion, NJSI celebrated their hard work of learning and growing together. On 5th September, the farewell program was organized for them. Students from St. Anne's also joined the celebration. The celebration included performances from the students. The students gracefully executed their performance, shared their experience and had good wishes from everyone. . At last, certificate were distributed and refreshments were enjoyed.
Everyone had a cheerful smile on their faces. The students expressed their gratitude toward NJSI. One student prepared a poem on how her life changed after the course. Nepal Jesuit Social Institute wishes all the participants best of luck for their future endeavors. We hope they will inspire others too and help people in need.