The regular support is provided by Nepal Jesuit Social Institute to women of rural areas of highly affected district from major earthquake 2015. To make them overcome of the problem raised by earthquake, NJSI is building safe space for women which is also known as Women center or multipurpose activity center for women.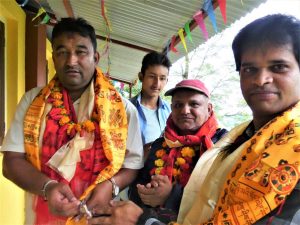 On 29th September 2019, the grand inauguration took place at Shree Kshyamadevi Women center, Barahbise Rural Municipality-4, Okhreni, Sindhupalchowk. The group comprises of 38 members and was established in 2058 B.S. The space they made to make decision for development was destroyed by earthquake therefore they requested for a new one. In the inauguration ceremony a total of 32 people were present.
The construction of women hall was funded by Missio Achen and implemented by Nepal Jesuit Social Institute. Fr. Thomas inaugurated the newly built women center and handed over to the concerned authorities.