Integrated Pedagogical Paradigm (IPP) is a method which focuses on the holistic development of children rather than only focusing on the book and knowledge based approach. The idea was introduced to expose teachers to different teaching methods that can be fruitful in teaching and learning approach. A two days long program of IPP training was conducted by NJSI in which 19 teachers were invited from 6 government schools of Kavre, Sundhuli, Sindhupalchowk and Ramechhap Districts.
On 11th October 2018, the program started and was focused on briefing the flow of teaching and learning: Context, Experience, Reflection, Action and Evaluation and techniques of making lesson plan. The session incorporated different group activities, reflecting on songs and metaphorical stories and applying them as a teacher.  Another day on 12th October, the day was followed by evaluating self in terms of teaching professionalism, role of a teacher in counselling the children, different techniques to make classroom environmental friendly and learning.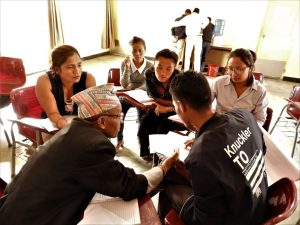 Teachers seemed interested in learning new things and were frequently interacting and asking different scenario based questions on how a teacher should approach those issues. One of the teacher, Subash Tamang expressed "The presentation and videos made all the subjects relatable and easily understandable. We also knew the importance of time management as every activities were perfectly managed according to schedule. We are thankful to NJSI for providing opportunities and looking forward for more programs like this."
With more exposure to such program and practice, it is hoped that they will be able to implement the idea of values and reflection in their methodology.