Nepal Jesuit Social Institute has been contributing in the different sectors like education, protection and livelihood in the earthquake effected areas since 2015 and this time NJSI team went to Suri, Dolakha to facilitate women out there about our new Constitutional rights. On 6th and 7th October programs were conducted in two different places of Suri. The first place consist people of Tamang Community with 33 participants and on the second day people of Surel community was facilitated with 24 participants.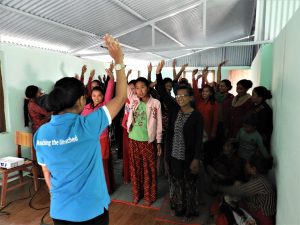 The program started with ice breaking game and then followed by interesting presentation and fun activities that make the participants actively participate. The presentation mainly include all the basic rights of women, legal laws on domestic and sexual violence and general information about Sexual and Reproductive Health and Rights(SRHR). At the end, certificates were distributed to them for participation as an encouragement to get involved in these kinds of programs.
Despite of their busy schedule during Dashain, they manage their time for the program and attended with full enthusiasm. They showed their interest by asking questions about the laws against Domestic Violence and Polygamy. They also helped us in conveying the message that we should stand for our rights and speak against the crime without any hesitation. They expressed their gratitude by thanking us personally for empowering them about on Sexual and Reproductive Health and Rights.