On 24th Bhadra 2075, a three day elongated program was organized by Nepal Jesuit Social Institute on Soap Production Training for Kalidevi Women's Group, Kunta, Kavrepalanchowk. The group is comprised of 106 women of 18-70 years of age with diverse ethnic background in which Brahmin community is in the majority.
Each day on average more than 30 women participated in this revolutionary project of promoting women to empower themselves through skill development and income generating training. Participants showed their keen interests in learning the each steps through their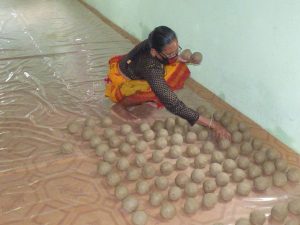 active participation.Prior to this training, they were all disseminated into several groups and were involved in an individual income generating works which were not as sustainable as they are now when they come collectively in soap making and community development.
They were happy and thankful to NJSI for making them aware of sustainable living and communal work. NJSI has been supporting the group from the beginning and have already built an activity center for them.