Soap making training has been another successive vocational training program of NJSI. NJSI held yet another soap making training for three days on 4th, 5th, and 6th of August at Jaretar, Kavre.  It was an advance soap making training provided to 30 women; most were from Danuwar community. The trainees didn't only learn about easily accessible raw materials to make soap and their quality and quantity, but also were inspired by the trainer.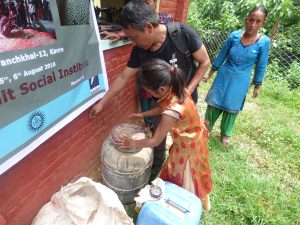 The whole crowd was impressed with the trainer, Rajiv Tamang who was visually impaired. He has been giving similar vocational training programs since 2015. He understood the raw materials and their quality with his fine touch. The trainees were mesmerized with his aspiration. His eleven years old daughter proudly stood beside him supporting throughout the training program. The trainees were motivated to enhance their capacity by utilizing the healthy body they were blessed with.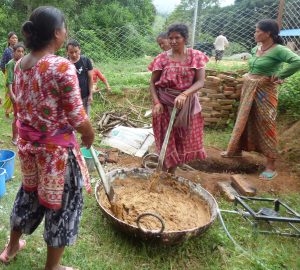 In his guidance, the trainees were able to produce 566 packets of soap each containing 3 spherical shaped soaps. They intend to sell each packet at hundred rupees to local people through their own women cooperation. They want to utilize the thus earned income on further production of soap. Now they need to learn marketing techniques so that they can promote such home made products in local and larger markets.
NJSI is thankful to Mr. Rajiv Tamang and Xavier Network for their contribution on this vocational and transformational program.