Nepal is a country where most of the people are involved in agriculture and animal husbandry also comes under one of the main occupation after farming. Nepal Jesuit Social Institute believes in developing skills of the people for sustainable growth. As animal husbandry has a market place which creates income, employment and opportunities for upgrading their standard of living, NJSI organized a three days livestock training for women of Jaretar Srijanshil Mahila Samuha.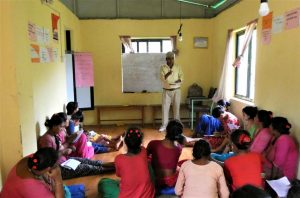 On 24th September 2019, the program was started with a total of 26 participants which was further divided in to three groups for reporting, evaluation and entertainment. The resource person Mr. Bidur Giri gave briefing about animal husbandry and how to take care of their domestic animals properly so that they could keep them healthy and have good earning from it. Various species of domestic animals, their characteristics and behavior, different harmful diseases with diverse types of chicken, their diseases and consequences were discussed. Moreover the needs and necessities of each animals were deliberated. Later, the several kinds of grass and its benefits were also discussed. Thanks giving and certificate distribution marked the end of the program.
The participants were quite attentive as it gave them needed knowledge about their practical work. They were glad and thankful to have the training and are expecting same kind of training in future which determines that the training was fruitful and effective to the participants.