Tipling, a village surrounded by hills and mountains which offers panoramic view of Mt. Ganesh Himal lies in the northwest of Kathmandu in Ruby Rural Municipality, Dhading. Government had built a road from Syaprubesi to only upto Somdang in Rasuwa-Dhading border back in 1987 and after that there were only walking trails which was of less/no use after 2015 earthquake. Overall development was at halt due to lack of road connectivity.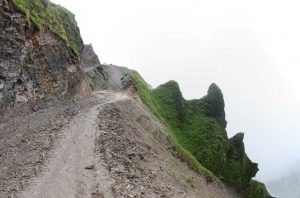 After discovering mesmerizing landscape of Tipling, Nepal Jesuit Social Institute took the challenge to up-build the life of people by constructing a 27km road going through the most difficult terrain of steep and rocky hill sides from Somdang to Kami gau, Tipling. Two years of hardship finally turned into fruitful outcome and locals had breathe a sigh of relief on 13th of July 2019 when road was inaugurated and handed over to them. A very precise handover ceremony of the road was conducted at Tipling itself in the presence of chairman of Ruby valley Rural Municipality ward no. 1 and 2. The program lasted for one hour. Both of the chairman appreciated the work of NJSI on behalf of the villagers. They seem very happy to see their hopes and dreams getting fulfilled soon through road. Around 62 villagers were present in the program. Reverend Bishop Paul Simick, NJS Superior, Fr. Amrit Rai, chairman of Ruby valley Rural Municipality ward no.1, Min Ghale inaugurated the road officially through cutting the ribbon. After the ribbon cutting ceremony "Social Audit" was presented. All the details of the project were recited in a chronological order such as who were involved, who contributed it, the donor, the starting date, ending date, the challenges faced during the implementation phase and named the road as "Xavier Marg". All the expenses of this road construction is carried by "Xavier Network".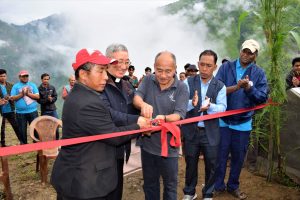 In such ecstatic moment of completion, NJSI conducted a felicitation Program on 20th July back at NJSI office where all the communities of Kathmandu Valley were invited. In the program, Fr Roy, Director of NJSI presented a short video on the construction of the road. Along with that he shared the experiences on behalf of NJSI team, the challenges faced during the implementation phase. Keeping the main motive of the program, Fr. Roy honored 9 distinguished people who had contributed immensely to accomplish the road, namely, JCB operator Pradip Basnet, his helper Loa Tamang, Falam Tamang and Shiva Subedi. In site clearance, Man Bahadur Tamang and Kho Bahadur Tamang. Kailash Thapa and Dipendra Tamang as a transport coordinator and lastly Grace Ghale who gave a helping hand in his internship program in NJSI. Along with them NJSI supported with token of love to other staff members who had contributed in their own stipulations. Some Government officials were also present in the program, Former Local Development Officer (LDO) of Dhadhing, Bhagone Aryal. Now, he is a Chief Administrative officer at Hetauda Sub- Metro politician city. Vice chairman of Ruby Valley, Beena Ghale, Chairman of Ruby Valley Rural Municipality ward no.1, Min Ghale, and Manager of MAW Earth Movers Pvt.Ltd (JCB), Yam Gurung.
Now with the completion of Xavier Marg, locals of Tipling have assorted opportunities to multiply their progress. They have started to perceive an explicit juncture in each one's life.