Computer education is a knowledge and ability to use computers and technology efficiently. Especially in today's academic and professional environment, every companies and organizations are highly dependent on computers and want their employees to have decent computer skills. Since computer skills are integral to all areas of study and work, Nepal Jesuit Social Institute is trying to enhance the skills of young and competitive people who are economically backward to acquire the skills themselves.
From 24th of March 2019, first batch of 3 months computer training was started in NJSI office. The training was initially designed to help minimum of 15 students with Computer, spoken English and Office management skills. In order to collect students, social organization were contacted and we were successful to get 12 students but many of them left in the middle of the training. They had so many personal issues and were unable to manage time accordingly due to which they were irregular.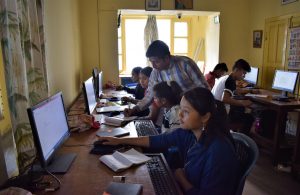 The training included basic as well as advance computer courses like Fast typing skills, Microsoft office, Photoshop, InDesign and Premiere pro. They also received classes on Office management and importance of Communication from Indian volunteers. At last only 4 of them appeared on the qualifying exam which was held at the end of the course on 28th June 2019. The students passed both objective as well as practical test with flying colors, in virtue of which the certificate was awarded to each of them. To celebrate this occasion, NJSI organized a small graduation ceremony on 1st of July in which the students were appreciated for successfully completing the course.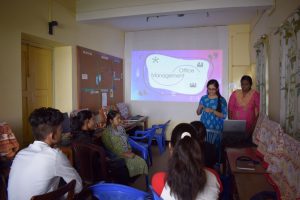 NJSI believes quality matters more than quantity and hence it was proved by the graduating students who were satisfied by the courses provided to them. They were happy and thankful toward NJSI for providing them opportunity to grow as a competing candidate for their future.
We acknowledge your desire to excel this technological world and thus want you to be a part of it. As an aspiring organization, we the NJSI team encourage you to get connected with us and at the same time improve your computer skills. We are looking forward next batch to start soon so, if you are willing to join, please feel free to contact us.