In this advance world where everything is related with applications, internet and technology, computer education plays a vital role in student's life. Computer education holds a power to learn new skills and more advance version of current lesson. Nowadays computer is used everywhere either it be to paint using windows paint or cracking a specific code using other computer system. Almost every office and organization wants staff with at least basic computer knowledge.
For a competitive world where everyone is fighting to get a better job experience, Nepal Jesuit Social Institute is helping the underprivileged girls/women to be able to stand with others and maintain their standard of living. To help this vision to achieve it's goal, NJSI collaborated with St. Anne's which was then led by the organization in Godawari as St. Anne's Executive Secretarial Management Course. Helping them to develop their personality and encouraging them to learn standard way of communicating, this program was developed since 2017. From then to till now, 3 batches has already completed the 6 month course of Computer training, Personality development and English improvement classes.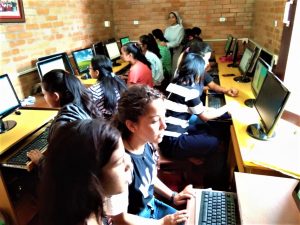 This year also the training has begun from 1st June, 2019. Altogether 15 girls started the training with Ms. Office and Type Writing whereas more of them are expected to join within 2 weeks. They will soon start personality development courses and activities. Hope each of them will grab all the opportunity to learn and graduate with flying colors. NJSI wishes all of the students a great success in life.