NJSI has been supporting the children with special needs of Shree Bhagawati Care Center and Kali Devi Care Center which is located at Kavre district from the beginning and in every two or three months as per the need, NJSI has been providing the nutritious foods and medical interventions to the children. On 4th January, NJSI team went to these places to supply the nutrition food and take the blood sample of the children for thyroid test. There are 8 children in Kali Devi Hostel and 21 children in Bhagawati Care Center.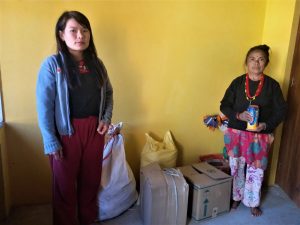 The set of nutritious food that was provided included Grains, Flours, Horlicks, Sarbottam Pitho, and eggs. At First the team went to Kali Devi Care Center where the children were so sensitive and scared seeing the injections and all the lab equipment. The team applied different techniques to convince the children so that they would allow the technician to take the blood but still they were unable to take sample of 2 children. As prescribed by the doctor, 3 children from Bhagawati Center had to repeat the thyroid test. So on the same day, NJSI team went to Bhagawati center which is quite far from Kalidevi to collect the blood sample of those 3 children. One lab technician accompanied with us to collect the sample. Children were very cooperative here in comparison to Kali Devi Care Center so the technician easily took the blood sample from them.
The children from both the center were quite happy seeing us, they gave us a warm welcome with their cheerful smiles and greetings. The caretakers also were really happy seeing the food and the medical provision.