Thumka Danda is a village located at Roshi Rural Municipality in Kavrepalanchowk District. The village is on the difficult terrain and mostly populated with Tamang indigenous community with people of Brahmin and Chettri community as well with 105 households. They do not have any water source nearby and throughout the year except the monsoon season village is very dry. They had to walk for 2 or more hours daily to fetch water from Roshikhola carrying it on a bamboo basket in plastic bottles.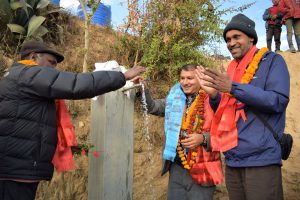 NJSI helped the village by building a water tank to store and supply water to the households by laying pipelines and constructing 17 water taps for the various use of villagers. On 7th January 2019, NJSI team went for the handover ceremony of the water supply project. The program was too lengthy with the speeches from government officials. Group of children sang self-made song about the project, the availability of water near their house and new opportunities the tap would now provide young children, thanking us for all the support. All the guest inaugurated the tap and handed over it to villagers.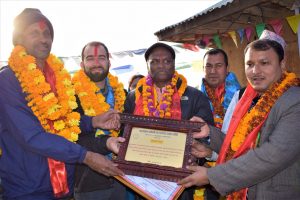 Villagers expressed their utmost gratitude towards the whole team who worked for the water project. They mentioned that in earlier days, the women in the village had to wake up early in the morning, sometimes even in late midnight to walk almost 2 hours to fetch a jar full of water. Sometimes, their walk would go in vain when they would have to return without a single drop of water. A Tamang women even laughed saying that she would finally get to sleep till late mornings without worrying about fetching water now.