4 members from NJSI went to Mahadevdanda, Godawari to handover the women center to Bisankhunarayan Bahuudeshya Mahila Biakash Sahakari Sanstha women group on 28th December, 2018. Mayor, Ward chairman, section officer for Women and children's department along with 60 members of women group were present on inauguration and handover ceremony.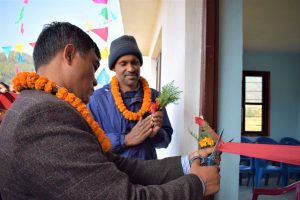 The ceremony started at 12 and lasted for an hour keeping the program precise. The women group managed everything properly and was able to invite all the concerned authorities including those who supported continuously and the stakeholders of the program along with all the beneficiaries of women center for the inauguration program. Speeches, reading of financial statement by women group and social audit were the activities followed. At last the key of women center was handed over to chairperson of that group. Snacks, tea and group photo marked the end of the ceremony.
The women of that group is very active and hardworking. From inviting guests to concluding the program everything managed themselves. They delivered financial statement of the women center in front of everyone which was quite interesting and unique. All the participants present there were very happy to get a women hall that they can count of their own. They expressed their gratitude in their speeches and personally too. The ceremony was successfully conducted.