A beautiful multipurpose hall has been constructed and handed over to the Jal Devi Women's Group of Suri, Dolakha on 19th July 2018. It consists of a cozy office room, a big hall and a conventional washroom with a wide open space outside the building.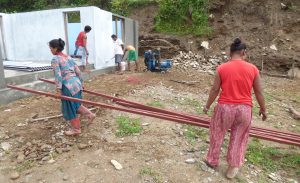 This hall has been a symbol of unity and generosity. Not just the members of the women's group, but the entire community worked wholeheartedly since the beginning of the construction. Men, women, mothers, elderly ones, youngsters, everybody happily contributed on the construction. The construction team also worked effectively despite harsh monsoon and difficulty in transportation of the materials. The land was also a donation from two kind families. The NJSI team was touched by the humility of the people.
NJSI will be conducting various awareness programs and skill enhancement training at the hall. The hall will also be used to organize community events. NJSI is thankful to all individual supporters and Xavier Network for their contribution in establishing an emblem of compassion.