NJSI funded a skill training program, "Advanced Felt Training Program" to the members of Disabled Service Center located at norther corner of Kathmandu, Tarkeswor.
Disable Service center is a shelter home for differently-abled people . Altogether 22 differently-abled people from 16 yrs to 61 yrs age group reside in the center. The center has been working to empower differently-abled people through vocational and skill training programs. The chairperson, Chandra Bahadur Khatri who is a wheelchair person himself, says they initially learnt to make handicrafts of felt material from YouTube; however as the product finishing was not good, they had to hire a trainer for which they did not have sufficient fund.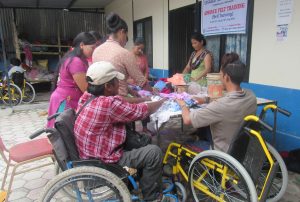 NJSI funded the training program that started from 10th of July to 16th of July. Jamuna Thapa Magar trained 20 participants among which 13 were differently-abled and 7 were under privileged women. They prepared materials like bags, carpets, earrings, decorative items, caps etc.
The participants were happy to receive completion certificate on 16th July.  The chairperson expressed his gratitude towards NJSI and said that they can now prepare other advanced felt items with the perfect finishing touch.