Due to the devastating earthquake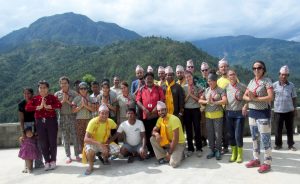 of 2015, Gyalthum community people suffered the most, they lost their homes, their hope, and everything. To build their hope Nepal Jesuit Social Institute is constructing 73 shelter homes. 15 beneficiaries have completed their houses and some of them have started to live.
Three French and seventeen Lebanese scout volunteers along with two Jesuit Scholastic Sch. Josheph and Sch. Anto from Lebanon is assisting the village by helping for the site clearance, to dig the foundation and are also assisting to agriculture work for the community. As for now, the rainy season has started so the construction works are in a halt for the time being.
Gyalthum community welcome the group with open heart along with the cultural program. French group will remain for three weeks in the village where as Lebanese group will stay for 6 days to work with NJSI for the village.