Arun Gaupalika (Rural Municipality) Bhojpur becomes a model and Marks a new Chapter in Local Development by Inviting NJSI-Fe y Alegria Nepal, for partnership for Rural Education Improvement Program. It was in 2022 September that NJSI first visited the Arun Rural Municipality and established the first Education Smart hub in Vishwa Premi High School in Yaku village.
Mr. Shivaji Rai, was the first person to approach NJSI-Fe y Alegria Nepal and accompanied the team to his birth place village Yaku. Being an employee at the British Embassy he always wanted to do something for his people in the village and then made the moves to bring NJSI-Fe y Alegria Nepal to his village. Soon he convinced the Local Government and the parents and teachers' body of the schools along with management committee.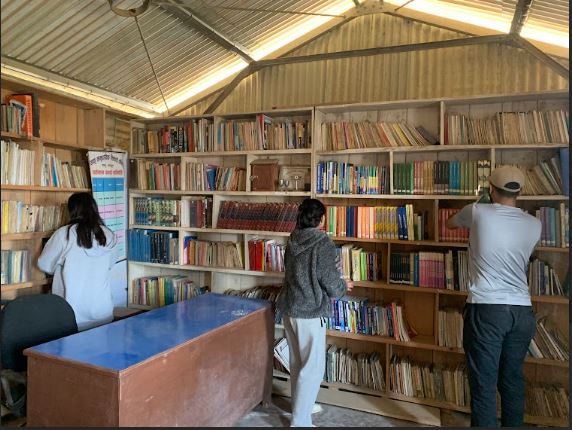 After the establishment of the REIN in Vishwa Premi School, NJSI was again invited to give teachers trainings for the ECD teachers from all the schools of the Arun Municipality where there is ECD classes. There where about 36 teachers participating in the program conducted by NJSI-Fe y Alegria Nepal.
It is remarkable that for the first time in NJSI-Fe y Alegria Nepal, that all the expenses the food and the accommodation of the trainees and the trainers including the NJSI team was taken care by the Arun Gaupalika. It is the first step of Private public partnership for an education program taken initiative by a Municipality intending to improve the education in their villages. Moreover, it is a grate booster to NJSI that we are now welcomed by the Local Government and our service is valued by the people of Nepal.
Not only inviting NJSI-Fe y Alegria to their village, but we have also noticed that the Arun Gaupalika has agreed to spent part of their budget to give furniture and other facilities to the school. This will become a model for educational development in the country a much-awaited change in the mindset of the Government of Nepal. With the new federal system, the local government is able to focus on important issues of their areas of development and education has become finally one of the priorities and Arun Gaupalika would be the fore runner of such a change. We must congratulate the local leadership, including, Lokmani Dakhal (Hon. Ex MP), Mr. Shivaji Rai, local representative.
NJSI-Fe y Alegria Nepal has now established two Education Smart Hubs two schools in the Gaupalika, supplied education and sport item to two primary schools, and 20 sets of Tables and benches to the high school. A library is also being set up in two schools by the Social Work Students of St. Xavier's College.