With the aim to encourage young enthusiast to maintain healthy environment, eco-club was formed in different schools and among them Shree Saraswati Secondary School stands out to be unique one. They are not only engage in various cleaning campaign, but also fulfilling their responsibility by spreading awareness about eco- friendly activities among other schools of Sindhupalchowk.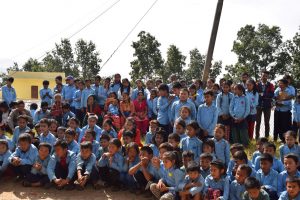 On 6th of November 2019, NJSI travelled three and a half hours of drive to reach the school. After reaching, a mass of 150 students including the teachers welcomed NJSI with flower garlands in their hands. They had had everything very well prepared, starting from their welcome speeches, thank you speech, dance and poems. The students very well participated in carrying out the program. After handing out 10 laptops to the school, the team was then guided to the tenth grade classroom where interactive activities were carried out. Essay competitions and drawing competitions were conducted. After the program ended, the gifts were handed out to the winners.
The tenth grade fondly participated and actually did very well. It was nice to see how they engaged in whatever we had in store for them and the teachers, too, cooperated in carrying them out. They said they would be looking forward to having another similar program in the near future.