Kavre is one of the major project sites where various projects and activities are conducted by Nepal Jesuit Social Institute. On 14th September 2018, foundation was laid for women's activity center at Mandendeupur.
The beneficiaries will be Deridevi Women's group who came tog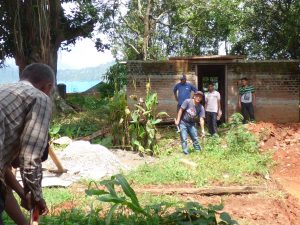 ether to be self-reliant.  Most of them belong to Tamang community who are involved in agriculture and animal rearing. Now, they are planning to use that center for conducting meetings, developing skills through various trainings and to discuss agendas for social and economic community development. This revolutionary idea was suggested by Deputy Mayor of Mandendeupur Municipality, Nirmala Shahi.
For the foundation ceremony 13 people gathered from the locality. They were very thankful to NJSI for making them believe in their capability and showing an approach for independent living.