Nepal Jesuit Social Institute thrives to help people of remote places meet their essential needs. Therefore, NJSI organized a medical camp on 2nd of May 2018 in Chapadi village of Rakathum, Ramechhap in collaboration with Navjyoti Center and sponsorship from Misio Achen.
Though Rakathum has road access, there are no regular routes of public transportation. Therefore, villagers have to walk two hours to reach the nearest health post. This closest health post is facilitated with only few general medicines, a health assistant and three mid wives, responsible for taking care of villagers of all neighboring villages. Hence, people tend to neglect their health condition and it has had led to problematic situation during the time of emergency.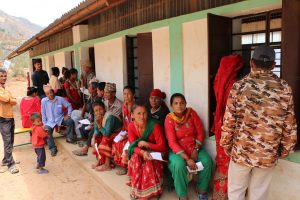 A team of four doctors and 10 staff members facilitated the treatment of 102 patients (52 male and 50 female). They came from three villages: Khaniyapani, Chapadi and Lhubhu. Most of the patients were prescribed medicines for vitamin deficiency (54%), muscles and joint problem (49%), eye problem (23%) and respiratory problem (12%). In contrast to the assumption of the physicians, only few cases of gynecological problems were reported. This might have been influenced by the stigma associated with menstruation and reproductive health of women, says Ram Hari, a local inhabitant and staff to NJSI.
For the sustainability and better impact of the program, regular and frequent health inspection is suggested.