The cascade of Personal Development Camp reached hills of Kavre at Shree Bhagwati Secondary School. It is the only higher secondary school at Kharelthok village. Around 300 students attend the school. The camp was conducted for students of grades 8 to 12 on 7th and 8th of September 2018. Out of 66 students participated, majority belonged to Tamang ethnicity followed by Kharel, Shrestha and Shivabharati.
Like in the previous camps, NJSI has received positive response from the school and the students. Nirmal Lama, an active participator throughout the camp said, "I am very happy and grateful to Personal Development Camp which has helped us to focus on development of the selves. We learnt about identifying our aspiration and processes we need to embrace to reach our goals. We also learnt about different types of scholarships available and thanks to NJSI for making us aware of it. Now, I think, we do not have to worry about financial hindrance to attain higher education. I found this camp to be different from other programs because we were asked to think critically and give reasons for the stand we take." Nirmal has been elected as the president of the NJSI Eco club, Shree Bhagwati Secondary School. He added, "Being the president of the club, I will make sure to protect my school and its environment. As in the previous Eco-clubs, school cleaning campaign was a success with huge piles of garbage collected from around the vicinity of the school.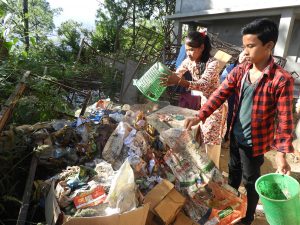 "The camp has helped me learn my own strength, interest and aspiration", said Rajiv Tamang, the vice president of the Eco-club. Similarly, another student of grade 11, Manoj Tamang reported, "I feel that the exercises of 'Know Yourself, Know Your Aspiration' session was very helpful in helping me identify and realize my dreams and also share with my friends."
NJSI hopes that the Eco-clubs established through these Personal Development Camps will be a platform for the students to serve their community by protecting the environment and developing themselves as mindful youths.